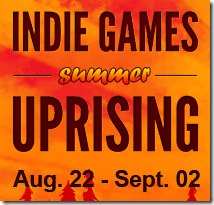 I've been pushing pretty hard the past week getting enough promo material together for Dirchie Kart – World Tour to be part of the "Indie Games Summer Uprising".
It's a great promotion organised by a few community guys to group together some of the top Xbox Live Indie Games about to be released into one big promotion, hopefully with some backing from Microsoft to get some dashboard loving like the previous Winter Uprising.
I've only really thrown my game's hat into the ring at this stage, voting hasn't actually started just yet. With only 10 entries chosen out of 70 odd the competition is tough.
Hopefully you can pick my Dirchie Avatar out on the second page here, and here's a direct link to Dirchie Kart – World Tour's page on the site.
Wish me luck.