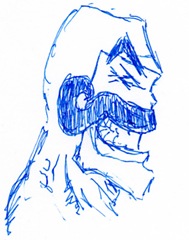 I'm sure I saw a tumbleweed roll across this blog the other day… here's a 1 minute sketch of a Bad Ass Dirchie head, I'm eventually going to model up a series of heads for people to choose from for their in game character.
At this point it's only going to be heads, as a one man team I don't have the resources to build to many in-game assets.
Pretty soon I've gotta give the sounds the once over, at the moment Dirchie Kart is a very quiet place, I'm thinking I'll just record a heap of place holders of me making the sounds into the mic and adding them to the code.
Hopefully I'll find someone that would like to replace them with proper sounds, if anyone knows of someone can they let me know?