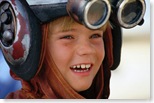 After xbox.com came back online and a little tweaking Ride the Fury was up and running on my Xbox 360 last night.
It's still not a "real" game yet but it proves that my little framework will work on the 360.
one interesting thing is how much of the screen isn't visible on the TV, I'd say you only see about 80-90%, I can now see why some of the commercial games HUDs are cropped on my TV sometimes. Also why some of the fonts used are unreadably small… time to update to that 50 incher!
Now all I need to do is make a game of it  🙂