Since the success of the Mindmelter 360 project I've been thinking of another small scale game to create on the Xbox.
My idea is to do a version of Space Invaders with completly over the top modern graphics, post processing glow, ripple shockwave effects, huge solid polygon explosions (should be able to use the algo from racer).
This little fella to the left is the first draft of one of the 3 enemy models, I want to achive a slightly spooky yet thunderbirds like style with them.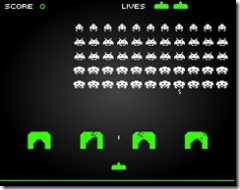 He's based off the ones on bottom two rows in the original game, there's not much to go on with orginals being so low res but I've enjoyed extrapolating it out into my own vision.
Stay tuned there's more to come.