Been in a coding frenzy this week!

L33t
Monday night I threw together this little proof of OpenGL concept proving that I can create an application on both the Mac and PC from the same code. It doesn't do much you can both play together (Player1: LEFT, RIGHT, > and Player2: Z, X, TAB ) shoot the "aliens" then escape to quit. It's all 3D OpenGL graphics which I'm learning at the moment.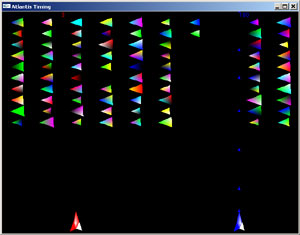 OpenGL goodness
Then last night I got stuck into level 2 for Rhys Quest, I think I've got it just about right, it may need to be a little longer perhaps. There's a new enemy the Mystical Quokka Ball in this level and I've got the menu systems all worked out so you can save you difficulty level and screen mode.
Probably the most significant change is you can now move forward and back, it needed to extra movement to catch more of the critters that get released.

Quokka
Let me know what you think?